Congratulations to the WNC SEED Challenge Pitch Competition Winners!
Hi, Steve of 1×1 Media here. Stepping away from funding topics for this post, I wanted to share the results of a recent program that I had the pleasure of working with here in the Asheville area—the WNC SEED Challenge Pitch Competition.
The multi-week program consisted of two training sessions covering topics such as startup fundamentals, customer discovery and development, and making your startup investor ready. Following the structured training, startup founders prepared their investor pitches and participated in several practice sessions designed to help them hone their presentations. The program culminated in an afternoon pitch competition, with six startups competing for a total $3000 in prize money. Three judges provided feedback and peppered the founders with hard questions about their ventures. Not quite Shark Tank, but close.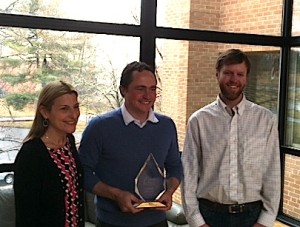 The $1,500 first prize went to Adam Masters, founder of Bellyak (www.bellyak.com). The company designs, manufactures, and distributes a line of innovative lay-on-top kayaks, or Bellyaks. The easy-to-use watercraft can be mastered quickly with little or no training or extra gear. Watersports enthusiasts enjoy the Bellyak on all types of water, from exploring calm lakes and gentle rivers to surfing beachfronts and navigating whitewater rapids.
Second prize ($1,000) went to Clark Harris, founder of LoLo (www.loloeffect.com). Short for Locally owned, Locally operated, LoLo provides a seamless loyalty and rewards program that connects your existing credit cards to local merchant purchases, rewarding your shopping loyalty with immediate discounts and additional rewards. Unlike other loyalty programs, LoLo users do not need to carry a separate card to swipe, or remind the merchant to process the discount.
The $500 third prize was captured by Mary Tantillo, founder of Dolci Di Maria (www.dolcidimaria.com). This specialty food company excels at delivering great tasting Italian-inspired gluten-free, dairy-free desserts and bake mixes. Now available in many food retailers in the Southeast, Dolchi Di Maria is becoming a highly sought after brand for customer seeking gluten-free options, as well as those of us who simply love the taste of the desserts.
Congratulations to all the participated in the program, and kudos to the winners for their excellent pitches. Thanks to Technology 2020 of Oak Ridge, TN (www.tech2020.org), Advantage West Economic Development Group  (www.advantagewest.com), A-B Tech Community College (www.abtech.edu), and the Citi Foundation for making the program possible.
*****
To learn more about startup investor pitches, the following excerpt from Startup Crash Course: Angel Funding provides a brief overview of the makeup of a well-formed investor pitch:
Preparing Your Pitch. Investor-ready founders have prepared (and practiced) a great 10 to 15 minute pitch funding pitch that describes their startup and hopefully gets investors and supporters excited about your startup. Remember, the purpose of the pitch is to interest investors enough that they want to know more—you don't need to tell them everything in your pitch.
There are many approaches to an investor pitch, with the traditional outline pitch and the more Hollywood styled "story pitch" flavors being the most used by founders.
The Traditional Pitch. Many investors expect this tried and true approach. If you can deliver the pitch with passion and clarity, you will do well selling your startup to investors. A traditional pitch is presented in the following flow:
The Problem. What is the problem you solve?
Your Solution. What is your solution to the problem, and why is it special?
Customers. Who do you solve a problem for, and why do they care?
Market Size. How big is the market, how many ideal customers are in it?
Business Model. How do you interact with customers, and how do you make money?
Your Team. Why are you the right team to carry out your execution roadmap?
Technology. Do you have a secret sauce, innovative technology, or unique approach to interacting with your customers?
Intellectual Property. Have you protected your technology with patents, trademarks, or secured appropriate domain names, social media account names, and so on.
Competition. Who are your competitors, what are your advantages? Have you identified a competitive factor that his hard to duplicate or circumvent.
Financial Projections. What are your projected revenues, costs, and expenses? Do you have a clear understanding of important financial plateaus such as our burn rate, break-even level of sales, and capacity and capital investment thresholds?
Funding Needs and Uses. How much are you raising in this round, and what milestones will it help you reach? What are your guesses about future funding needs?
The Story Pitch. This style of pitch tells a great story for investors to follow. It is less rigid and business school like than the traditional pitch. If you are fortunate to have paying customers when you are pitching to investors, your story pitch tells how you got there, how you engaged early with customers and pivoted to a product that really matters to your customers, how much your customers now love your product, and how you are poised for tremendous growth (with the help of a little investor cash). If you are pre-customer, your story pitch is focused on selling the idea of you product, how potential customers will use it, and how you will use investment funds to get there. For either path, build a short story that you can tell with passion and that leaves investors wanting to know more.