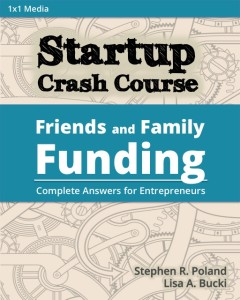 We are super excited to announce that our next title,  Startup Crash Course: Friends and Family Funding, is now available on the Amazon Kindle store (here), and will soon be out for iBooks, Google Play, NookPress, and as a PDF.
As you may know, many startup founders rely on friends and family funding to get their ventures off the ground. This Startup Crash Course details all of the common friends and family funding structures, including simple loans, profit sharing agreements, equity deals, and convertible notes.
Getting the money in the bank is a big step, but doing it the right way matters even more. This book provides easy to follow guidance for choosing and documenting the best funding structures for both your startup and your funding partners. As an added bonus, a promissory loan walkthrough provides blow by blow details of each clause.
Check it out, and as always, let us know your comments, feedback, and ideas.