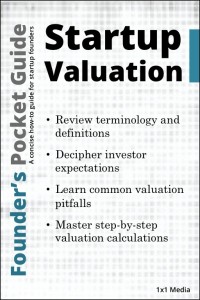 It was my first meeting with a seasoned angel investor—a lead member of the Bluegrass Angels in Kentucky.
I had my implementation plan pasted to the wall so it was easy to review. I had a detailed budget prepared detailing the costs for each phase of our plan. I had a list of our paying customers. I was ready.
The conversation was going really well, until the angel asked me the question:
"So what's your pre-money valuation?"
My response was a loose combination of ums and wells, and let's just say the meeting ended politely enough.
The Founder's Pocket Guide: Startup Valuation is what I wish I had back then—simple, quick answers, all in one place.
Check it out here at Amazon: Founder's Pocket Guide: Startup Valuation