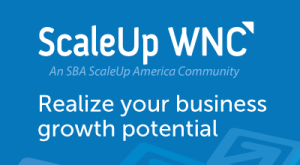 1×1 Media is excited to announce that co-founder-in-chief, Steve Poland, will be leading a significant small business training program called ScaleUP WNC.
The program spans a total of 5 years and is backed by an SBA grant. The goal of ScaleUP WNC is to provide growth strategy development and implementation assistance to small businesses in the 23 western counties of North Carolina.
Training sessions cover topics such as:
Assessing early-stage growth opportunities
Raising money by getting investor-ready or lender-ready
Understanding the angel funding process
Leveraging friends and family loans
Gearing up for bank loans and other lending opportunities
P&L, cash flow, and balance sheet management
Developing a great funding pitch
The program concludes with a Demo-day pitch event, giving participating entrepreneurs the chance to engage with angel investors, small business lenders, mentors, potential customers, and other startup supporters.
Be sure to check out the detailed story on citizen-times.com