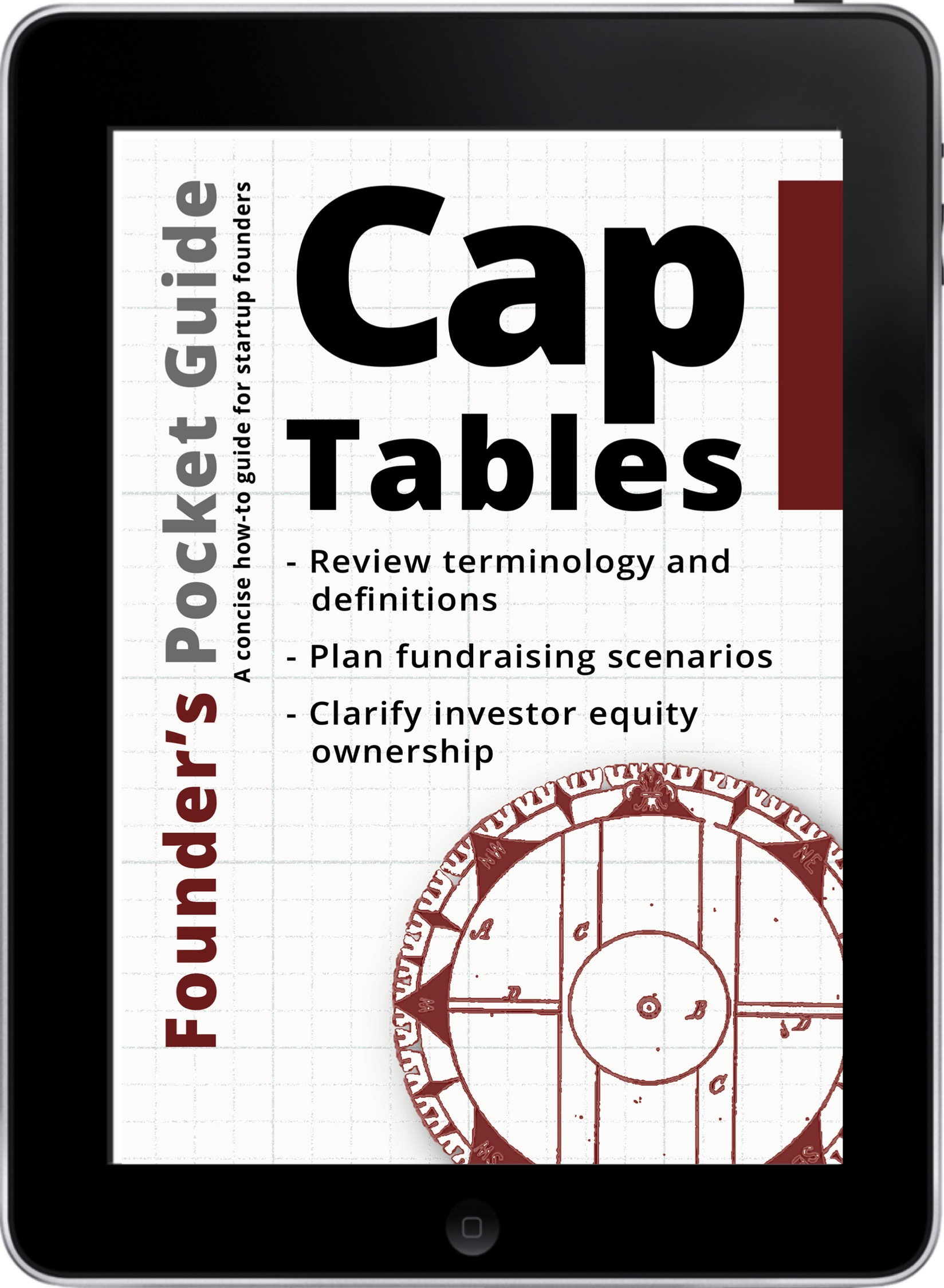 1×1 Media
Founder's Pocket Guide: Cap Tables
ISBN: 978-1-938162-07-7
$3.99 ebook
$7.99 paperback
The goal of this guide is to help you understand the key moving parts of a startup cap table, including reviewing typical cap table inputs, and demystifying terminology and jargon associated with cap table discussions. Along the way, this highly visual guide provides easy-to-follow examples for the most common calculations related to cap table building.
Expanding on these key skills every startup founder should know, this Founder's Pocket Guide helps you learn how to:
Build your basic cap table step by step, including founder's shares, option pools, angel investor rounds, and VC rounds.
Decipher cap table specific lingo, such as fully-diluted shares outstanding, preferred shares vs. common shares, Series A, Series B, and so on.
Establish a stock option pool in your cap table and understand the option pool effect on founder dilution.
Understand the simple math behind cap table formulas and calculations, including calculating fully diluted shares outstanding, investor equity ownership percentages, and share price.
Download the Cap Table Companion File

This companion file to the
Founder's Pocket Guide: Cap Tables
enables readers to follow along with each section of this guide. With a live version of the excel file you'll be able to review the overall layout of the cap table, examine each of the formulas that calculate outcomes such as shareholder percentages, and conduct what-if scenarios that show how investments and founder dilution percentages play out.
Founders-Pocket-Guide-Cap-Table-Mar-2019.xlsx (12387 downloads)
1. In This Pocket Guide
Download Our Example Cap Table File
2. Cap Table Basics
What Is a Cap Table?
When To Worry About a Cap Table?
3. Reviewing the Key Sections of the Cap Table
Shareholders
Stock Type
Startup Foundation (Founders' Round)
First Angel Round
Investment Round Deal Parameters
Angel Round Shares and Ownership
Fully-Diluted Stock % (Percentage)
Option Pool Rows
Exit Scenario Calculations
4. How to Fill Out A Cap Table Step by Step
Startup Formation and the Cap Table
The Formation Round
Setting Up An Option Pool
The First Angel Round
The Second Angel Group
The VC Investment Round
Exit Scenarios in the Cap Table
Tracking Convertible Debt Investments
Tracking Founder Vesting
Tracking Warrants
5. Reviewing Supporting Cap Table Concepts
Startup Funding Terminology
Pre-Money and Post-Money Valuation
Fully Diluted Shares Outstanding
Preferred Shares
Common Shares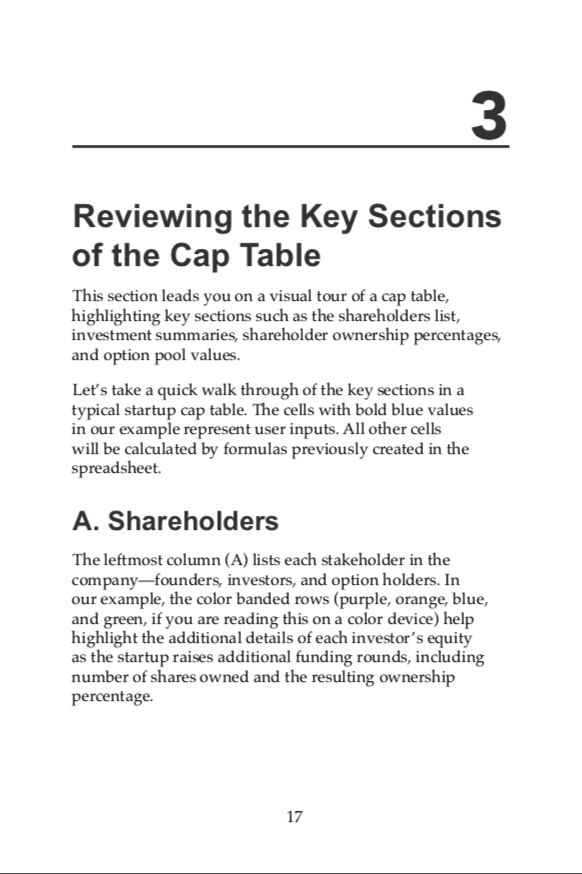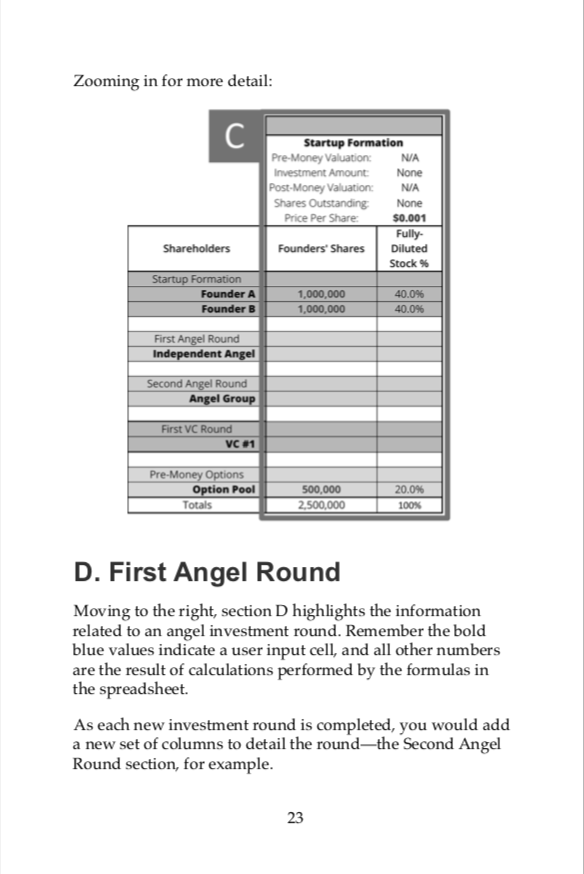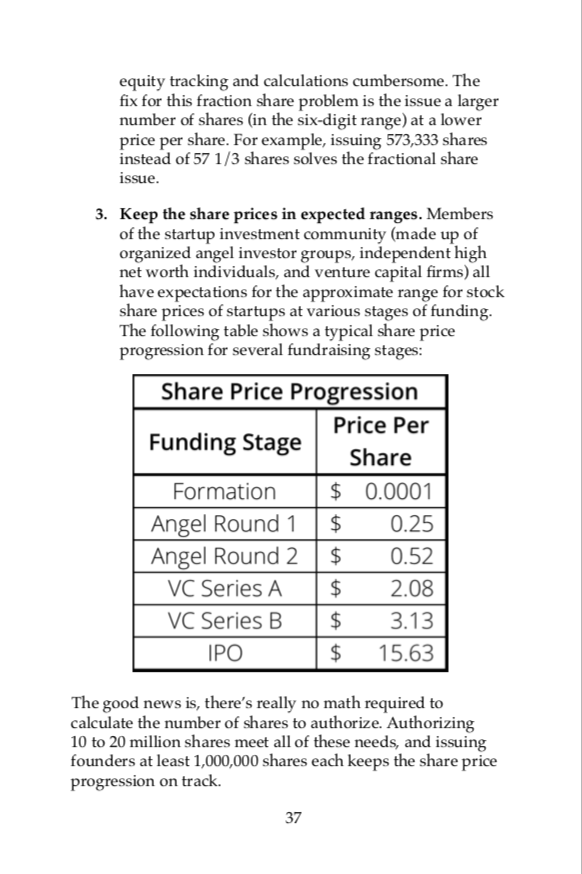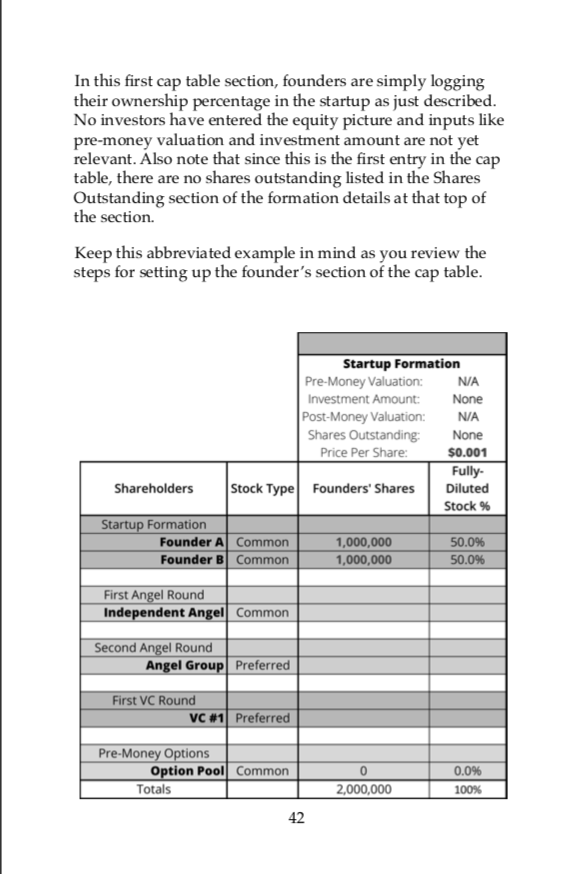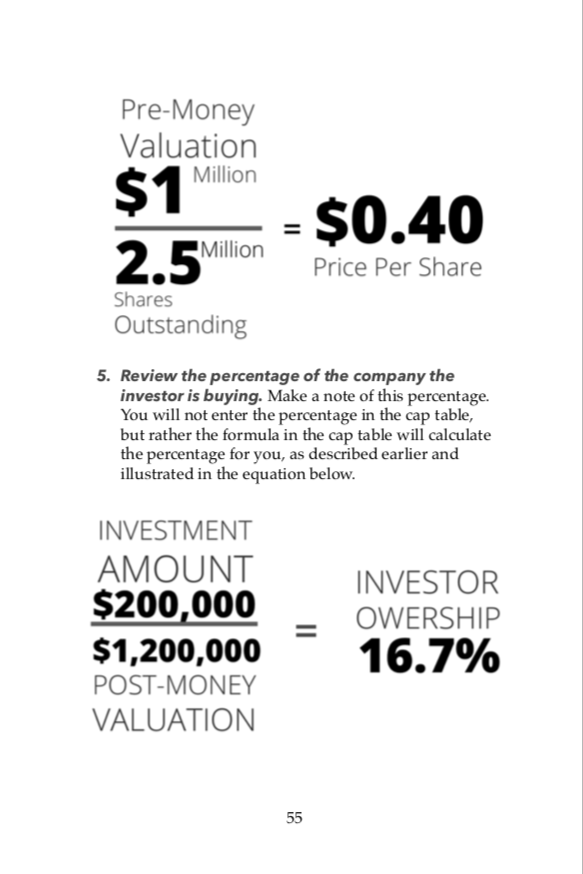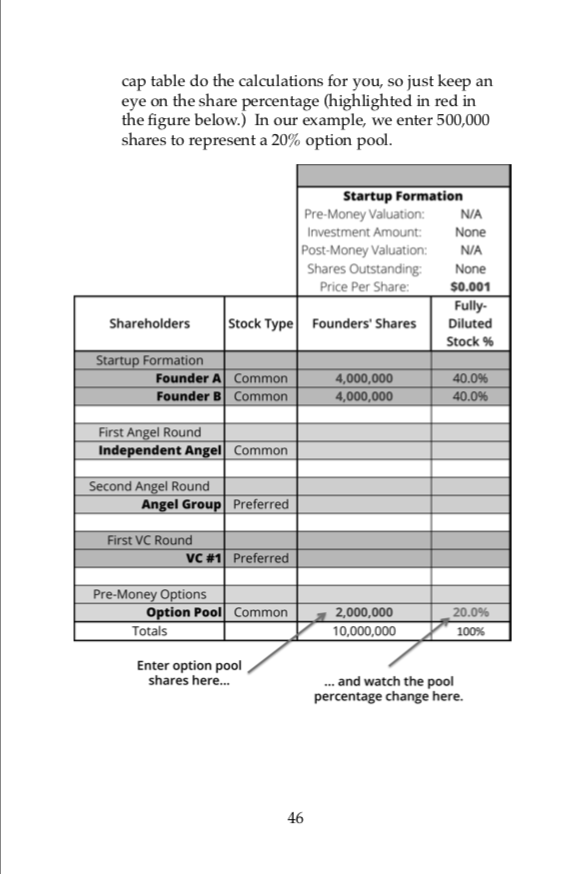 "A concise step by step review. The model supplied will be recycled over and over again."
Dean D.

"Great beginner guide to cap tables"
"Totally helped demystify some things for me. Tons of post-it's are stuck inside my copy for later review. This is good if you are starting from little to zero knowledge about cap tables."
A.C.

"Spot on. Exactly what I was looking for. I've picked up bits and pieces on various blogs, but this guide really pulled it all together for me."
Greg C.