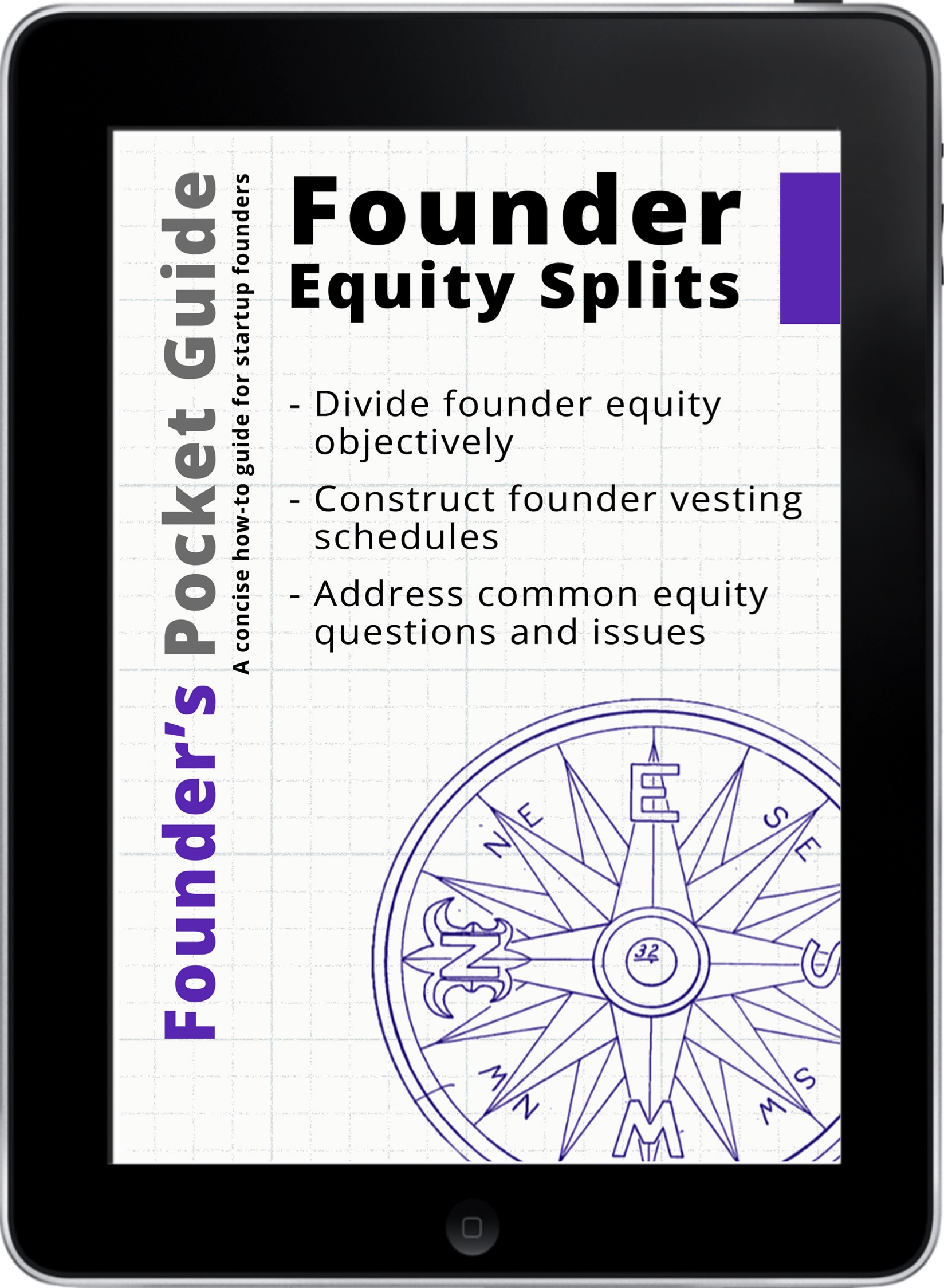 1×1 Media
Founder's Pocket Guide: Founder Equity Splits
ISBN: 978-1-938162-09-1
$3.99 ebook
$7.99 paperback
"How do we split up the equity ownership of our startup?"
This guide provides a framework and process to help startup founders answer this common question.
Equity ownership affects the culture and sense of well being of a startup. Founders typically sacrifice numerous other life opportunities to work on a startup effort. In exchange for that sacrifice, a founder wants to feel that the ownership equation with any co-founders is fair.
In detail, this Founder's Pocket Guide walks entrepreneurs though the following elements:
Take The Founder Test to make sure everybody deserves founder status.
Review the case for splitting your founder equity into equal parts.
Use the Equity Split Scorecard as a fair method to allocate more equity to highly skilled cofounders.
Solve common equity problems using founder vesting structures.
Answer common equity split questions like IP and founder-investors.
Note that this guide does not go into how to use equity to attract employees or using equity to pay service providers, advisors, development companies, or other contractors. This guide focuses solely on the best practices of deciding the equity ownership split between the founders of a startup venture.
Download the Equity Splits Workbook File

With this companion file to the Founder's Pocket Guide: Founder Equity Splits you'll be able to test the equity split frameworks and save the outcomes to review with your co-founders. The free file includes the following components: 1) The Founder Test and 2) The Equity Split Scorecard
1. In This Pocket Guide
Deciding Who the Founders Really Are
Reviewing Equity Split Methods
Using Vesting Schedules
Answering Common Equity Split Questions
Documenting Your Equity Split Decision
What This Guide Does Not Cover
Founder Pro Tips
Get The Equity Split Workbook File
2. Founder Equity Splits
Founder Equity 101
Three Rules for Founder Equity Decisions
When You Need To Decide
The Process For Deciding Equity Splits
3. The Founder Test
Key Elements of The Founder Test
Take The Founder Test
4. Equity Split Methods
In Defense of Equal Equity Splits
Unequal Equity Splits: Using The Equity Split Scorecard
5. Vesting: Earning Your Piece of the Pie
Vesting 101
Founder Vesting Schedules
Documenting Vesting Progress
6. Common Equity Split Questions
The Big Idea
The Founder-Investor
Equity for Code (or Other Services)
Work Already Completed by a Solo Founder
The Part Time Founder?
7. Putting Your Equity Agreement in Writing
Using a simple letter to document your agreement
After Incorporation and Other Formation Tasks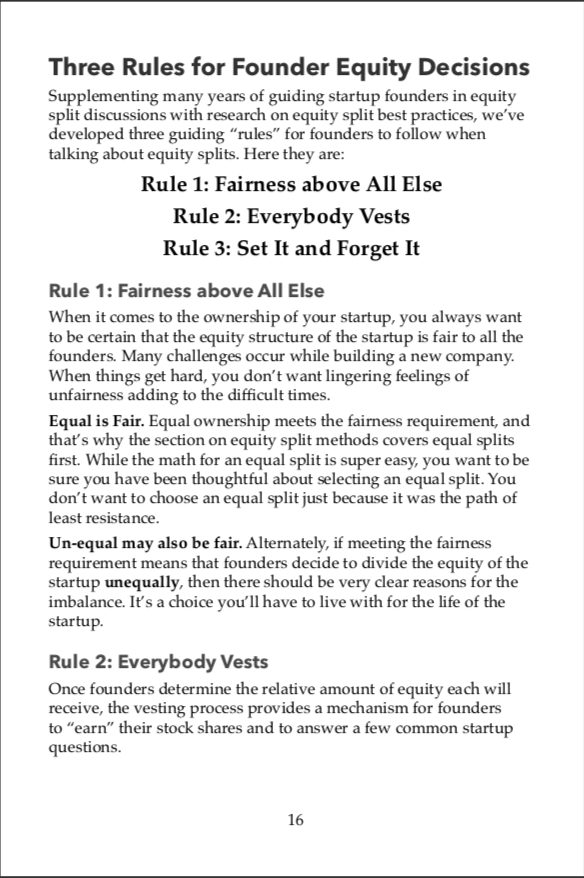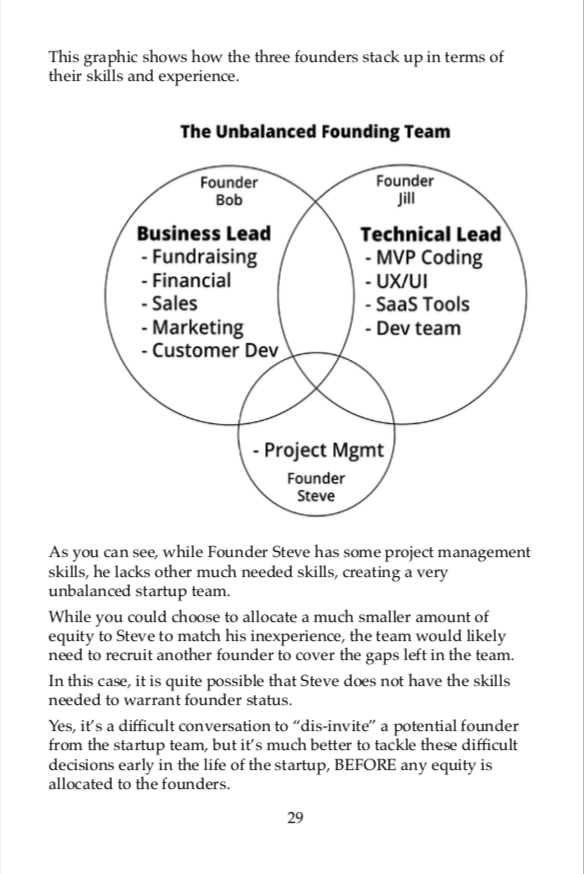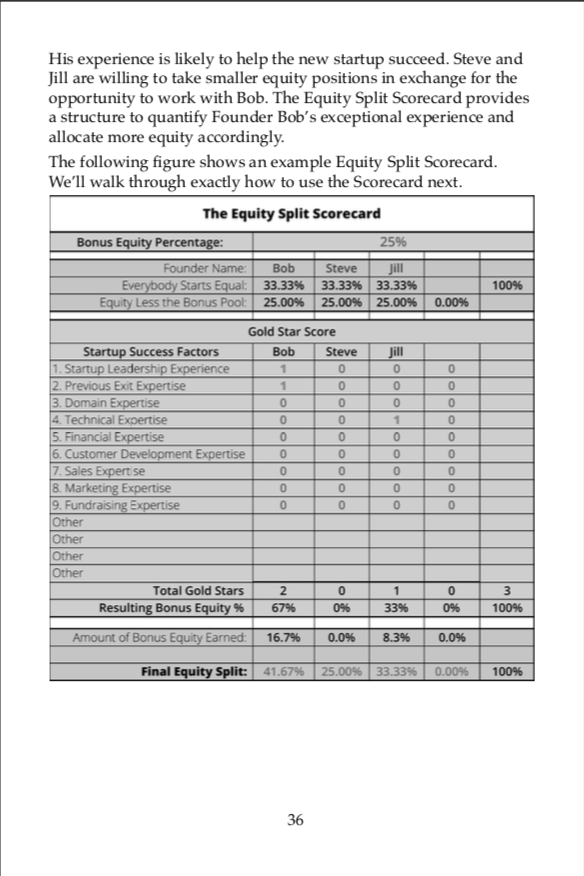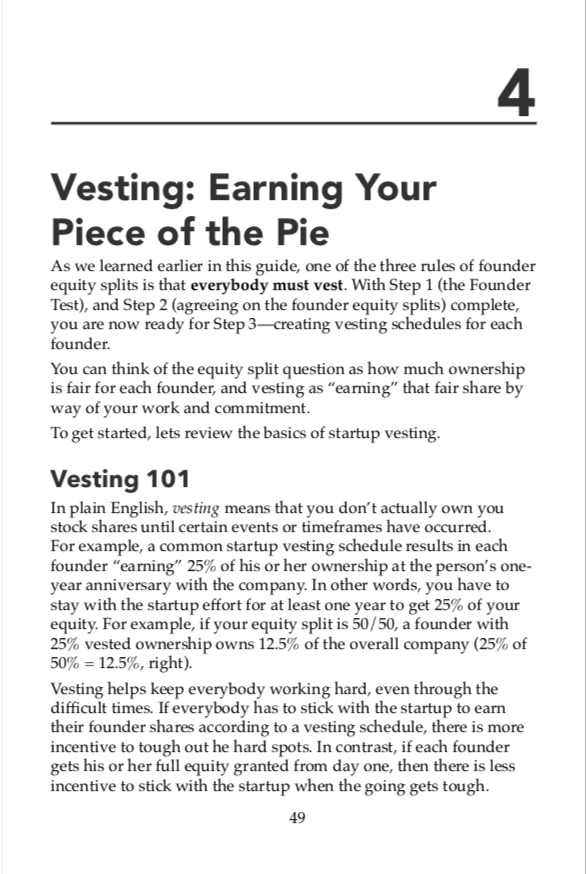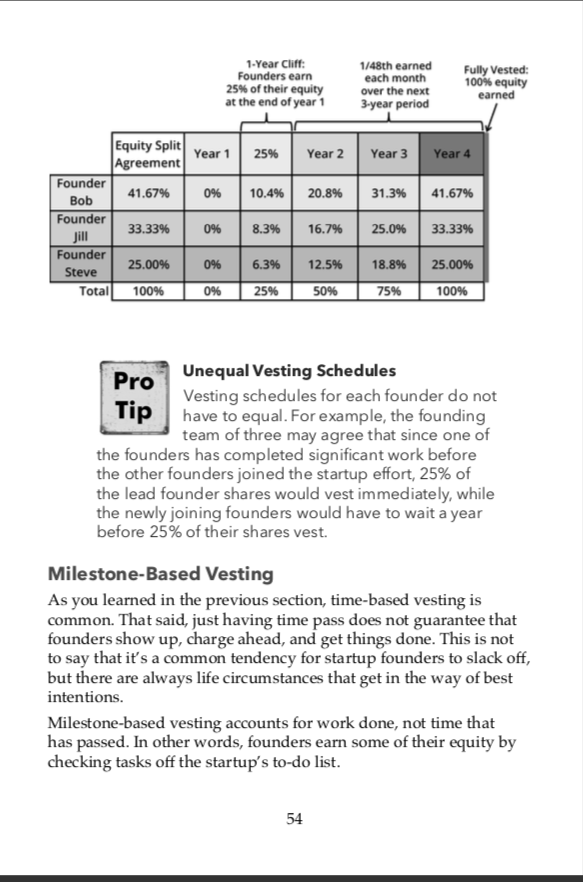 "A required primer for all start-ups! It was an easy read with very practical real world examples. I strongly recommend this to those who are starting small companies. It should be a required read for those taking Entrepreneurship courses."
R. Campbell

"I'm a co-founder of a bootstrapped startup doing over $10M in annual recurring revenue and went through grueling tough conversations to get where we are. I wish I had this book when we started, as there were things I felt like just weren't fair, but swept under the rug."
S. Hseih

"To the point, simple and useful indeed. The author does a good job breaking things down to the key essentials and covers important scenarios."
K. Rama