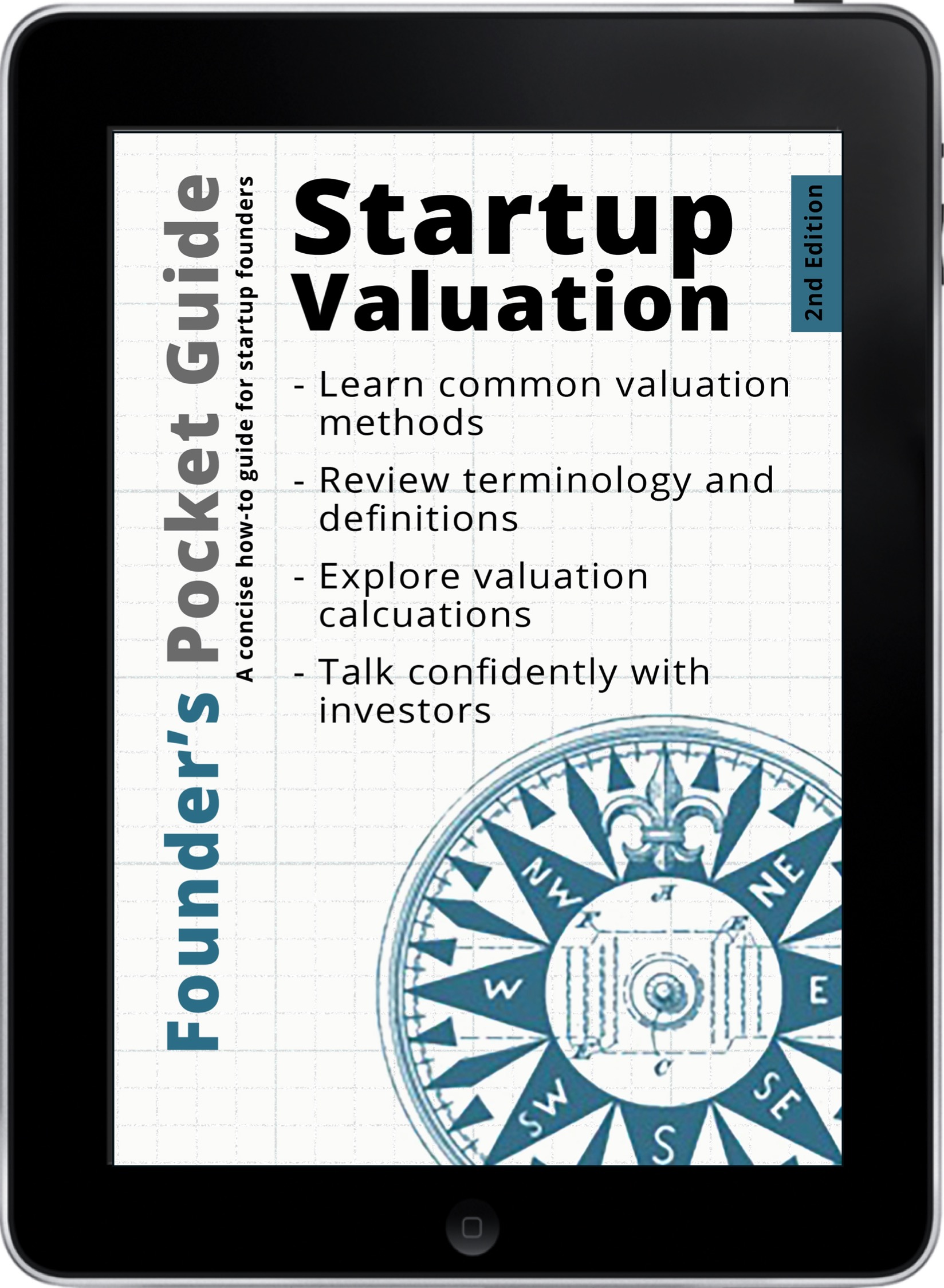 1×1 Media
Founder's Pocket Guide: Startup Valuation
ISBN: 978-1-938162-04-6
$3.99 ebook
$7.99 paperback
This updated edition includes several new features, including:
The Startup Valuation Explorer
Expanded coverage of valuation methods
Responses to investor questions about your valuation
Details about option pool impact on your valuation
For many early-stage entrepreneurs assigning a pre-money valuation to your startup is one of the more daunting tasks encountered during the fundraising quest. This guide provides a quick reference to all of the key topics around early-stage startup valuation and provides step-by-step examples for several valuation methods.
In more detail, this Founder's Pocket Guide helps startup founders learn:
What a startup valuation is and when you need to start worrying about it.
Key terms and definitions associated with valuation, such as pre-money, post-money, and dilution.
How investors view the valuation task, and what their expectations are for early-stage companies.
How the valuation fits with your target raise amount and resulting founder equity ownership.
How to do the simple math for calculating valuation percentages.
How to estimate your company valuation using several accepted methods.
What accounting valuation methods are and why they are not well suited for early-stage startups.
Download the Valuation Explorer File

This free companion file to the Founder's Pocket Guide: Startup Valuation provides readers the ability to follow along with key examples reviewed in this guide. With a live version of the Excel file you'll be able to test various valuation "what-if's" and document your work of determining a reasonable pre-money valuation for your startup.
1. In This Pocket Guide
Founder Pro Tips
Download the Startup Valuation Explorer
2. Valuation Fundamentals
How to Think About Startup Valuation
Valuation Increases at Each Funding Stage
Valuation and Funding Terminology
When to Worry About Valuation
The Basic Valuation Equation
Calculating Investor Ownership Percentage
Expressing Your Valuation to Investors
Valuation and Raise Amount Sanity Check
Early-Stage Valuation Pitfalls
What is a Down Round?
Determining Early Stage Valuations
3. Early Stage Valuation Methods
The Market Comp Valuation Method
The Step Up Valuation Method
Risk Mitigation Valuation Method
The VC Quick Valuation Method
The VC Valuation Method
4. Option Pool Impact on Valuation
True Pre-Money Valuation
True Pre-Money Valuation Math
5. Responding to Investor Valuation Questions
Your Valuation Is Too High
Your Revenues Don't Support Your Valuation
You're Too Early
6. Understanding Accounting Valuation Methods
Quantitative Valuation Models
Accounting Valuations Distilled
Understanding 409A Valuations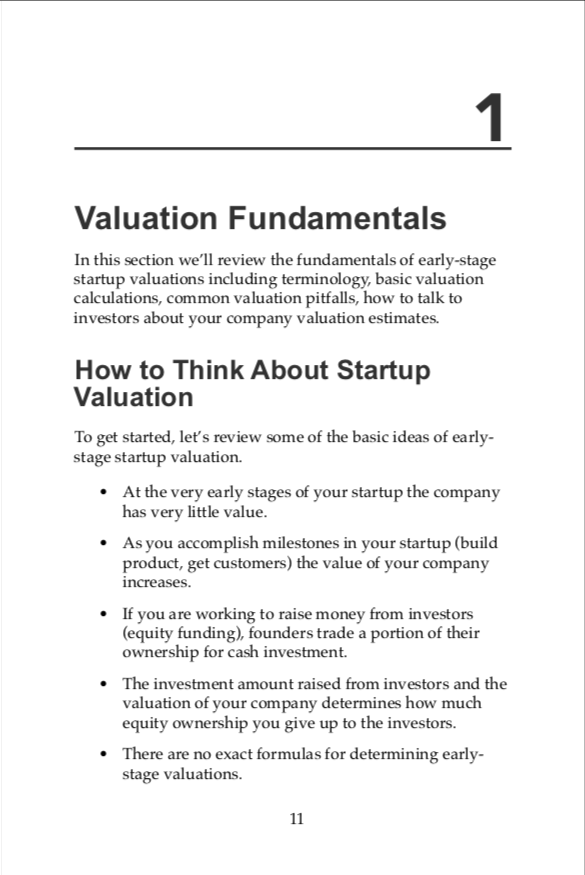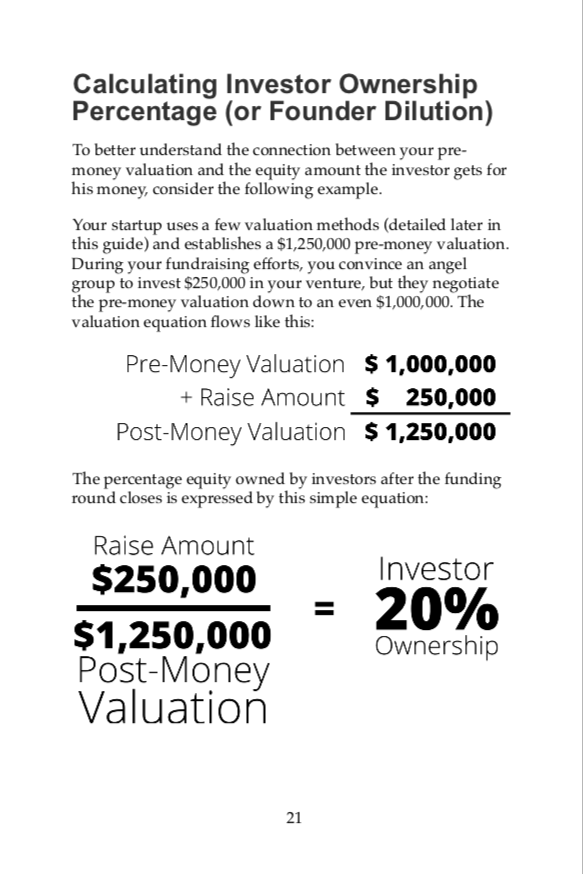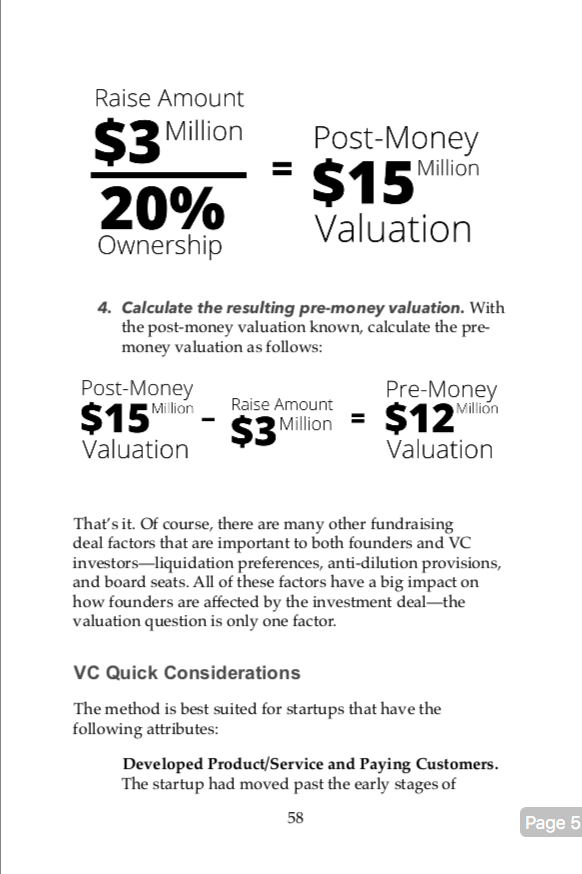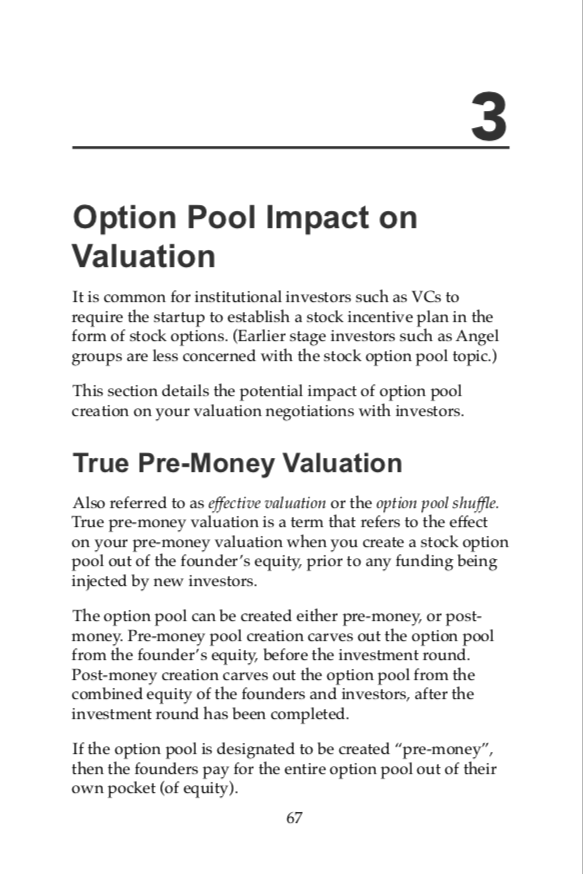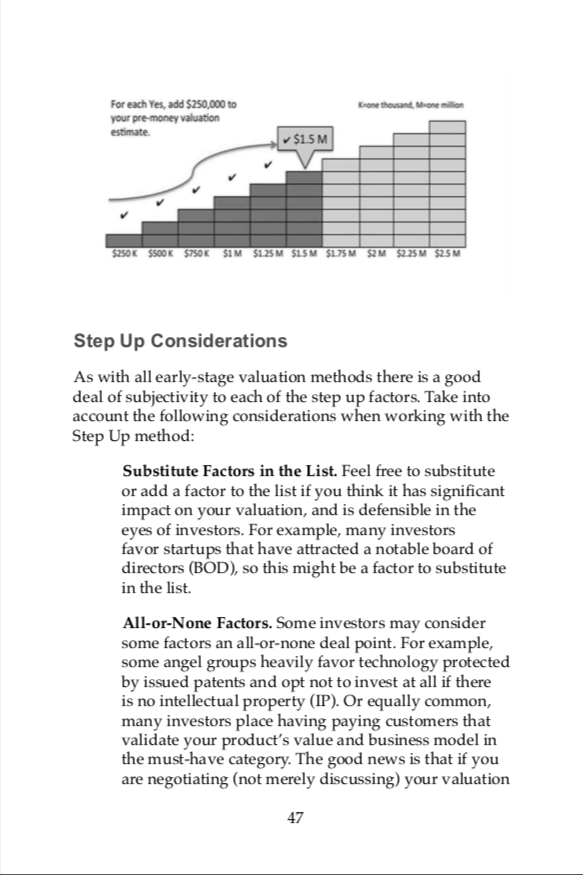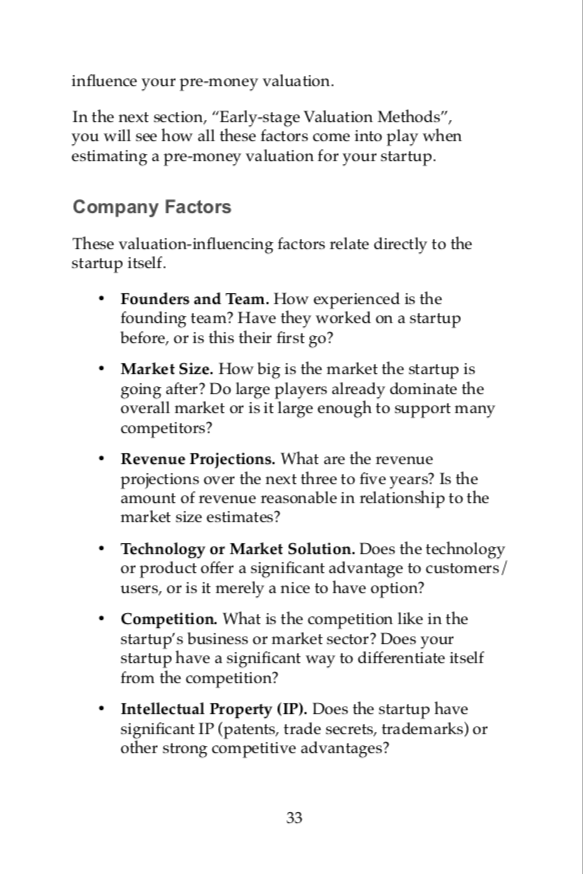 "A quick and simply informative book to read about startup valuation. I recommend this book to any up and coming entrepreneur."
JP.

"A great, well written fast and informative read. It is like a cookbook for startup valuation methods and issues and challenges. "
C. Anderson

"Simple, useful, to the point!"
"A focused essay, easy to digest for the busy entrepreneur who doesn't want to get lost into cumbersome valuation tools"
W. Browne